Success Stories
Student of the Year: McArthur's Motivation to Obtain GED Leaves Others Inspired   
   The stories of every student connected to Champlain Valley Educational Services hold very special meaning.  
    Melissa McArthur's story is one that leaves quite the impression.  
    This past October, McArthur was nominated and eventually won Student of the Year honors from the New York Association for Continuing and Community Education (NYACCE).  
    Her journey to this incredible h
onor is remarkable and something that will be a wonderful memory and moment forever.  
    The award recognizes adult students who have overcome adversity to further their education. Their achievements are recognized at an annual awards dinner in Albany.  
    "When I found out I won this award, I was kind of speechless," McArthur said. "For the people who know my story, I was at the lowest of lows. When I say low, I mean at the most bottom you can be. But I wanted to 
change and being back in school has helped greatly."  
HER STORY  
    McArthur is an incredible example of an individual taking part in many services that CVES offers.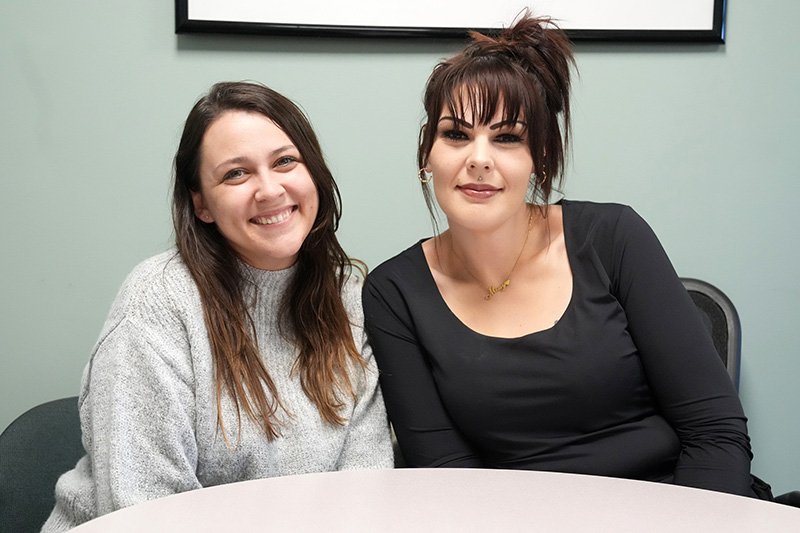 While she was incarcerated in the Clinton County Jail, she began working to obtain her GED in late 
2020 through CV-TEC's Correction Education Program.  
    In 2021, she was released from prison and decided to continue working toward her GED through OneWorkSource (OWS). Leading up to the fall of 2022, McArthur also enrolled in CV-TEC's Cosmetology Program, which she started attending five days a week, while going to OWS Tuesday through Thursday.  
    A day in the life of McArthur on Tuesday, Wednesday and Thursday saw her get dropped off at CV-TEC for the morning session, then catch a bus at 11:30 a.m. to head to the Plattsburgh Government Center where she switched to a different bus that brought her to OWS for noon. Mondays and Fridays were a bit calmer with only Cosmetology to worry about.  
    "I love everything about school," McArthur said.  
    During the fall, McArthur had to take a week off to tend to some family matters.  
    "All I wanted to do was be back in the classrooms," she said. "I really appreciated the learning aspect of it all, but the structure was also really valuable to me. The schedule might sound like it was really hard, but I enjoyed the challenge."  
AN EASY CHOICE TO NOMINATE  
    It's not every year that a student continuing their education at OWS is nominated for Student of the Year, but McArthur was an easy choice.  
    Adult Literacy Coordinator Katie LaBonte made the decision to nominate Mc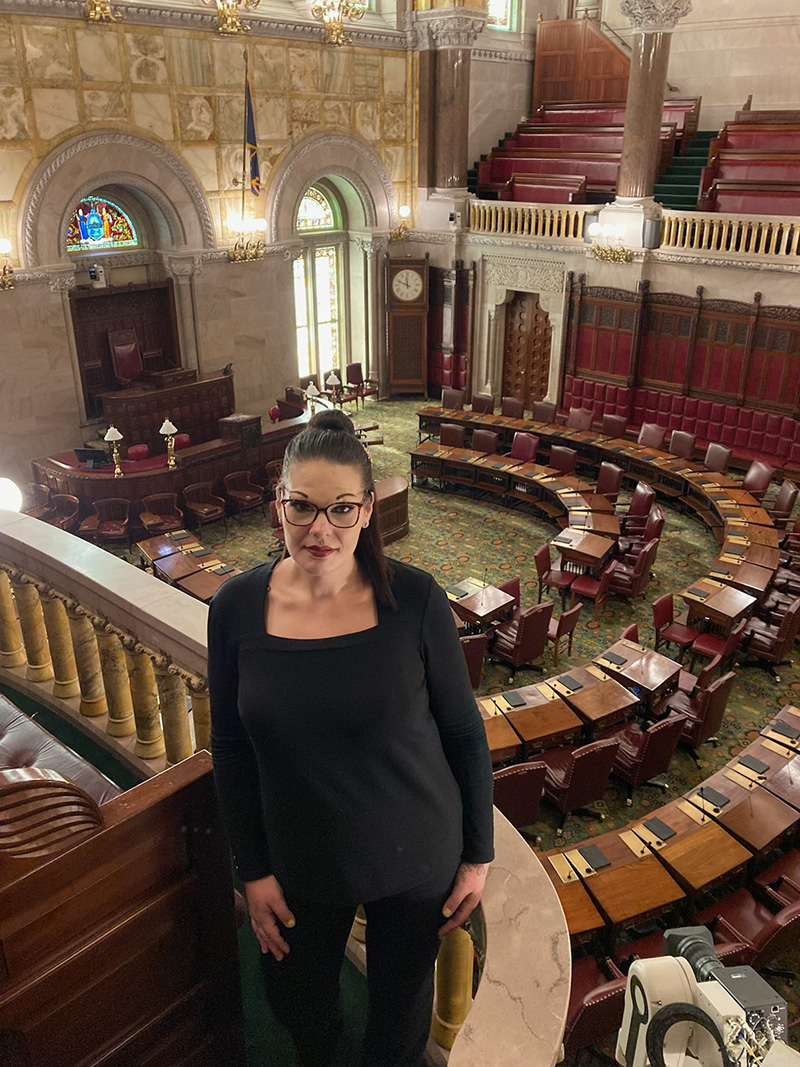 Arthur. She had McArthur come in to fill the submission questionnaire, which was an emotional experience.   
    McArthur dropped out of high school in 10th grade. She struggled with attendance and behavioral issues as a young student. She originally began going to OWS to complete her GED in 2012, but every time she came close to testing, she stopped because she was afraid to fail. This happened three times.  
    But fast forward to 2020, and McArthur jumped back on the saddle and began taking courses while she was incarcerated.  
    "It's so negative in there," McArthur said referencing her time in jail. "Taking classes was the only positive thing that was going on. It gets you out of the pod and has you doing something productive."  
    Her teacher Dalton Castine said he saw a drastic change in McArthur's commitment as she continued coming to class in jail.  
    "At first, you could see she was going through some really hard times," Castine said. "She stuck with it and became a leader in the classroom and within the jail for the inmates who were also in class. It's definitely rare to see that type of commitment in a jail setting."  
    Committed is a perfect way to describe McArthur.  
    All inmates working toward their GED are provided tablets to do their class work in their pods. McArthur was always on her tablet working even when not in class.   
    "We have those tablets in the pods. I can track how the inmates are using the tablets, and she was on it all the time," Corrections Education Coordinator Dana Poirier said. "We ended up utilizing Melissa as a mentor. She helped students in class and the housing units. Her attendance was outstanding."  
    As time went on even after her release from jail, McArthur's motivation became more and more evident as she worked toward her GED.  
    "She has faced a lot of adversity and continued to rise above it," LaBonte said. "When the opportunity came to make nominations, she was everyone's first thought."  
AWARD NIGHT  
    On the night McArthur accepted her NYACCE award, she had plenty of support. Her mother was there along with LaBonte, Castine and Supervisor of Adult Services at OWS Maria Huntington.  
    "It's an honor and humbling to join someone who is receiving such a special award," Huntington said. "Melissa is committed and has an amazing story. Regardless of what her circumstances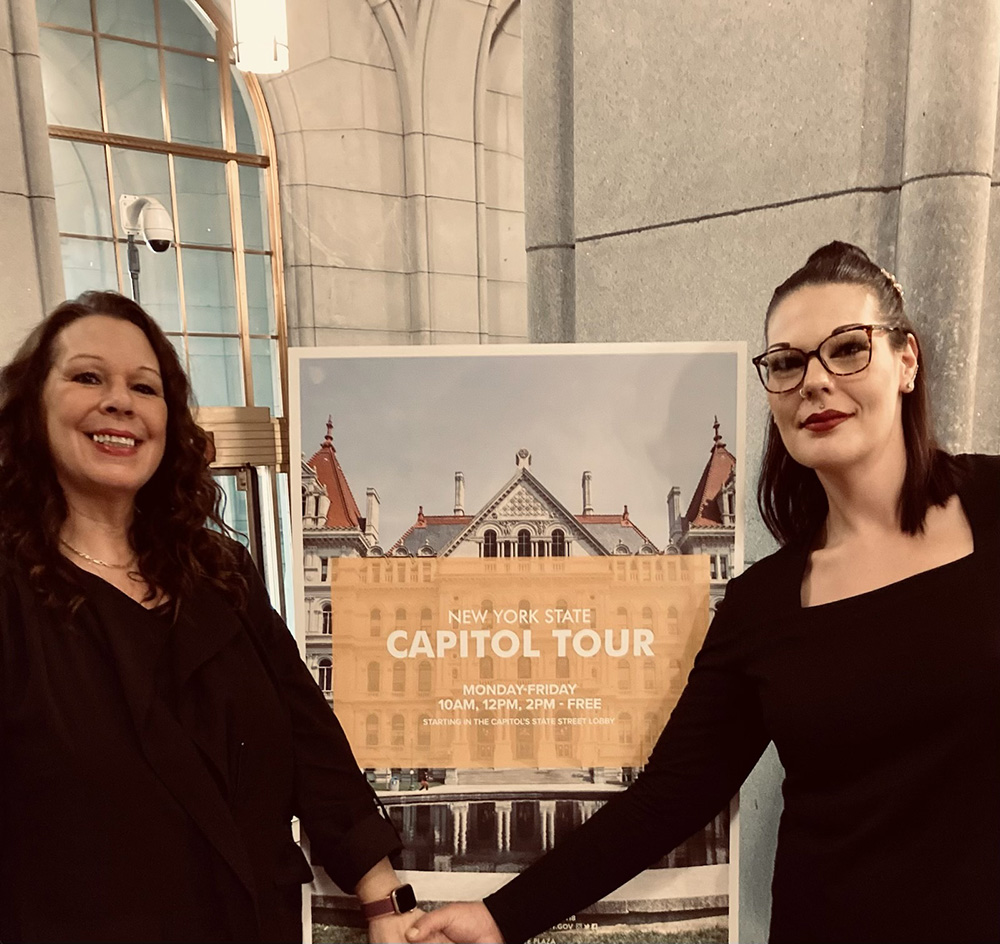 were before now, she has overcome those challenges and never given up."  
    McArthur was one of the final recipients to give her speech, and she admitted she was quite nervous before delivering her message. But she took the mindset and motivation she used in her classwork to the stage.  
    When she reflected on what she said to everyone in attendance that night, she discussed her journey. 
    "I have had to be really motivated and determined," McArthur said. "I did not have to beg for anything because the opportunities were right there in front of me, but I definitely had to pursue it. I had to figure out how it was going to work. I took things one step at a time."  
    And with a room full of supporters, she did not shy away from saying how she chooses to approach each day.  
    "It's about waking up every day and trying to make that day a little better than the day before," McArthur said. "You should always strive to do a little more and be better. That's how to live with the right mindset."   
GOAL ACCOMPLISHED  
    Every student's journey in adult education is unique, and McArthur's is definitely no different.  
    Leading up to her award ceremony, McArthur had a special moment with her 11-year-old son who out of the blue one night had some kind words to share while she was in his room.  
    "I remember him telling me, 'Mom, I just want you to know I am proud of you and how hard you have been working. I am proud you won that award because you really deserve it, and I am thankful you are my mom,'" McArthur said. "I am probably not saying it as elegant as he did, but it was really nice that he could tell his mom was doing something good."  
    Her son will have even more to be proud of now.  
    As of February 1, 2023, McArthur officially obtained her GED and will be a High School Equivalency Graduate this spring at Champlain Valley Educational Services.  
    She plans on taking a business class at Clinton Community College and hopes to one day open her own beauty shop.  
    "I tell everyone I can about the opportunities that have been presented to me," McArthur said. "I want people to know how good these opportunities are. CVES, CV-TEC and OneWorkSource are amazing places to be and have helped me re-shape my entire life."