Printshop Continues to Thrive
In the summer of 1987, Kim Wimett started working for the CVES printshop. After 36 years of service, Wimett will be retiring at the end of 2023.
She started working for CVES as an 18-year-old. Wimett learned about printing from Norman Vincelette, who taught a Printing and Photography class at CV-TEC for 20 years. Wimett did a work study in the printshop for two months before being offered a full-time job.
"This has been my life," Wimett said. "If you think about it, it's the equivalent of almost three 12-year school years for kids, and I've been in one place for it. I will miss it."
Wimett has seen the printshop go through various stages of evolutio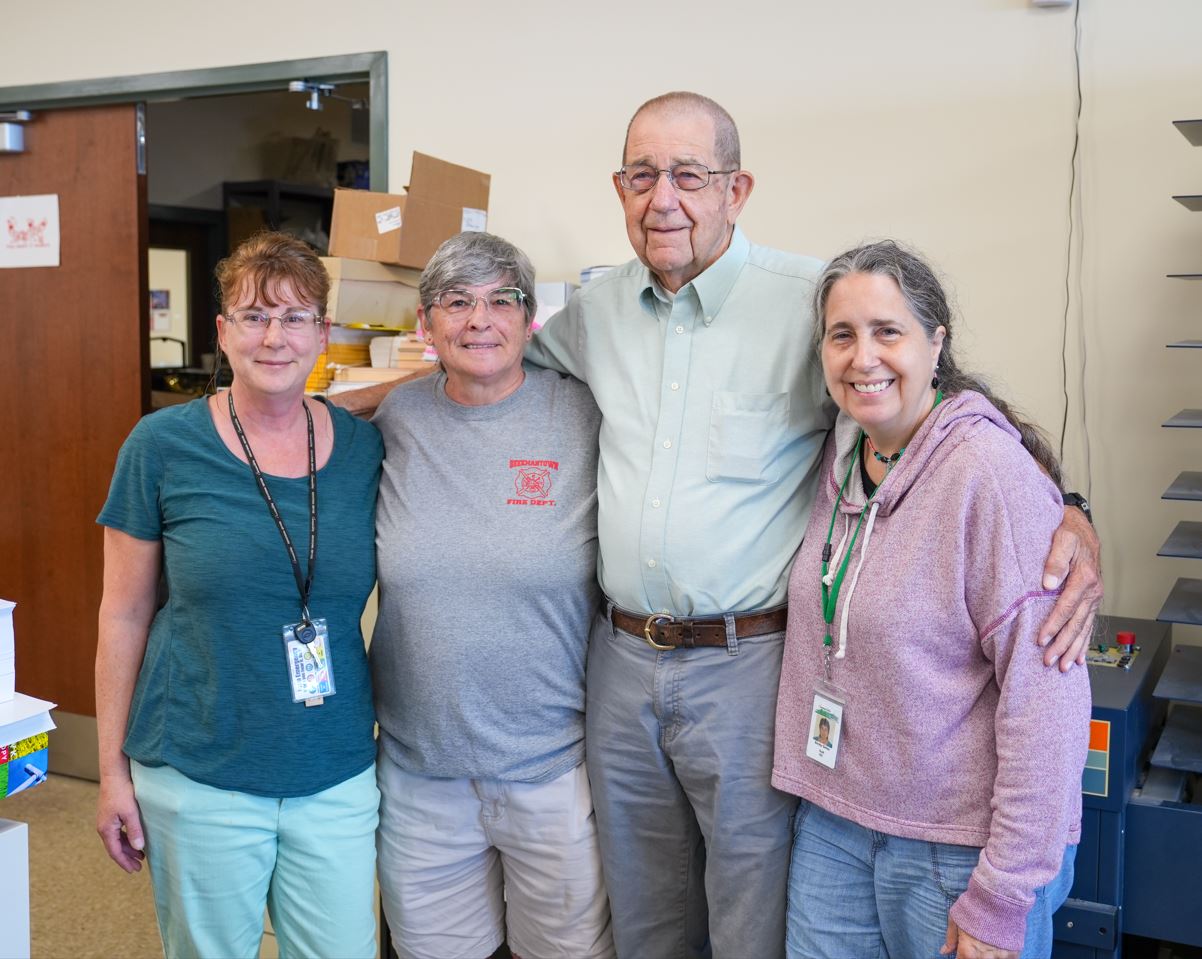 n. She has worked in three different locations, starting at Sibley Hall, then moving to Area Development and finally landing at Military Turnpike.
EVOLUTION OF THE PRINTSHOP
The printshop used to be smaller with less equipment, as technology hadn't evolved into the fast-paced machinery it is today.
There was one person, Jane Bush, running it, and she had only one printing press.
"You would stack the papers, and then when you collate them, you had to walk all the way around the table, and keep walking around the table," Bush said. "It's not like today where you can put them in a machine, and the machine will print them out."
After 10 years of running the printshop, Wimett was brought on to help Bush. Technology was modernizing and CVES brought in more equipment, but it still didn't compare to present day.
When Wimett joined, the printshop had a tabletop collator that only did 10 sheets at a time. There were two small presses as well. They had to staple and fold everything by hand. As of 2023, the printshop has a collator, two presses, binding machines, laminators, three copiers, a paper cutter and folder.
"There used to be a lot more handwork," Wimett said. "There have been big upgrades, so we can produce more in a much shorter time."
The Co-Ser modernized into a well-oiled machine that Wimett and Becky Gates run, learning from their predecessors and evolving for the high demands of present-day printing.
PRINTSHOP FAMILY
Throughout the years at the printshop, the printers were close-knit. Wimett, Bush and Gates were all taught by Vincelette at CV-TEC, creating a bond between them. Through their everyday tasks, they found fun, success and accomplishment.
During the recent move to Military Turnpike, Wimett and Gates were given two weeks to pack up and resume printing at the newest location. They palettized everything and helped move all the equipment from the shop.
"I don't think of doing my job as an accomplishment, but something I'm paid to do well, and it's important to me," Wimett said. "But, moving practically everything on our own and not falling behind on orders was an accomplishment."
There have been many jovial moments for the printshop as well.
Wimett remembered fondly the Christmas parties, summertime grilling and other nonwork-related activities with her Family of Professionals. She even recalled shooting rubber bands at paper with Bush and bringing Sue Lefebvre to the hospital for her first-born to be delivered.
"We laugh a lot," Gates said. "Kim and I find a way to laugh every day because every day is special, and something always happens."
As Kim prepares to retire, Gates said she will fondly remember eating lunches with Wimett outside in their "old lady rocking chairs" under the trees at the former building.
"It will be weird not seeing her everyday," Gates said. "It will be a change, but I'm happy for her. As broken hearted as it is for me, I can mute it because I know the joy she is going to have."
FUTURE OF THE CO-SER
As orders from component districts keep climbing, Wimett hopes to see the printshop fully digitized soon. By getting rid of the antique print presses, there will be more room in the shop. She also would love to see an envelope printer brought in to free up space from the envelope press.
"This would put us in a more environmentally friendly position," Wimett said. "By removing those presses, we would be completely chemical free and plate free."
There has also been more work with the printshop's four-color copier. "It's a lot easier to use the copier," Gates said.
"I've seen a lot more color work coming in from school districts. It's one of my hopes and desires that more teachers learn about the service we can offer them."
The printshop continues to thrive with state-of-the-art technology and dedicated employees to provide quality products to CVES and component school districts.
Want more stories? Click here to read the 2022-2023 Annual Report.