Success Stories
CVES streamlines officials' payments for all Section VII school districts     
After working at a Section VII sporting event, interscholastic athletics officials used to fill out a payment voucher and hand it to the home team's coach or athletic director. Sometimes it was filled out quickly, but other times there were delays before it returned to the business office for processing.  
    There were some officials getting paid quickly and efficiently, while others were waiting for their paycheck. There were many different moving parts, and extra work for busy people.   
    To support school districts and officials, CVES started handling all payments of officials as of Fall 2022. This new plan takes away the extra workload from schools and their business offices and allows CVES to provide additional support to nearly 300 officials.  
    "Officials don't have to chase dow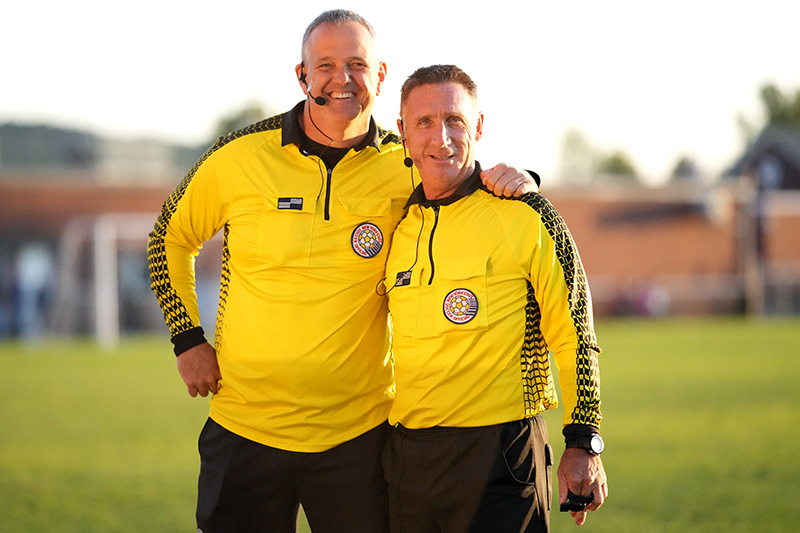 n payments if they work multiple sports," Interscholastic Athletics Administrator and Section VII Executive Director Matt Walentuk said. "Some officials officiate three sports a year, and that's a lot of work trying to do taxes. So now, they have a single, uniform organization to work with instead of each school."  
HELPING OFFICIALS AND SCHOOLS  
    There are currently 296 officials working for Section VII, and Interscholastic Athletics Coordinator Randy Lozier anticipates that number will increase with the help of Sections II and X. With the number of officials in the system, CVES is projecting handling approximately 6,500 payments each school year.   
    "Schools are finding that they can use their resources better to help the student-athletes in letting us handle all the nuances," Lozier said. He assigns officials to all Section VII home contests, checks to make sure officials attend the games assigned to them, and all payments to officials are provided. 
    This additional support given by CVES has been received well by school districts' athletics departments, business office personnel and superintendents. According to CVES Clerk Jessica Lagree, the biggest issues of streamlining payments was ensuring everyone's paperwork was completed. Now, with the new system officials are getting paid about every two weeks.   
    "One of the challenging things that all 26 districts in Section VII had was the time and effort it took to pay officials," Assistant Superintendent of Management Services Eric Bell said. "From a district side, it was a heavy lift in terms of time, effort and coordination from athletic directors to the business offices to get the officials all paid. On the officials' side of it, there were a lot of complaints about how long it took for them to get paid. Now there is one central point of contact instead of 26."  
NEW SYSTEM  
    Also, as a part of increased productivity, the capabilities of a digital system, called RSchool, is being maximized. This way officials can view digital vouchers and forms, assignments and paychecks through one system. It took away the need for shuffling papers and excess processing times. The digital system is also available for athletic directors to view and keep them informed of officials' schedules and contact information. This central system keeps everyone in Section VII athletics on the same page.   
    "Instead of hundreds of people working on this from athletic directors to business officials to claims auditors across all districts, we are now down to a handful of people," Bell said. "We have consistency in terms of payment and a point person people can call if they have questions or concerns."  
FRESH OUTLOOK  
    Central assigning supports the needs of multiple parties. Officials no longer have to worry about figuring out which school and person to contact. If an issue arises for game changes, payments, assignments, or really any concerns related to Section VII officiating, then it all is directed to the interscholastic athletics coordination office at CVES.   
    "This is a brand-new service for us," Walentuck said. "As we evolve this system, it will become even more streamlined and quicker to pay the officials and to bill the schools. It's only going to get better from here."   
    As the service grows and evolves, Lozier recognized that there's "always going to be small, little obstacles in the way." However, the overall feedback from athletic directors, business offices and schools has been "extremely positive."  
    "This process wouldn't work without Jessica Lagree, the support of Amy Campbell, Eric Bell, Matt Walentuk and Christine Myers," Lozier said. "Without all those people, we couldn't make it work."