Michelle Lawrence Named Administrator of Instructional Services
Champlain Valley Educational Services is pleased to welcome Mrs. Michelle Lawrence as its new Administrator of Instructional Services.
Lawrence joins CVES and its Family of Professionals with 11 years of educational experience and is thrilled about the opportunities in her new role.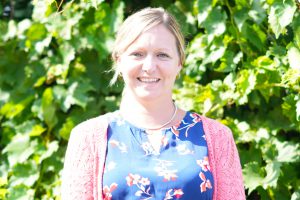 "This has always been my dream job of being able to look at assessments and help use data to assist school districts in planning curriculum and helping modernize learning environments," Lawrence said. "I want to be able to look at professional development in our region to address the needs of our teachers and students. This job allows me to do that and reach all 16 of our component districts."
After graduating from Northern Adirondack Central School, Lawrence spent two years at Albany College of Pharmacy and Health Sciences before transferring to SUNY Plattsburgh to complete her Bachelor of Science in Chemistry and a Bachelor's in Adolescent Education.
She then earned her Master's in Education from Capella University before gaining a Certificate of Advanced Study from SUNY Plattsburgh.
"Having Mrs. Lawrence join our Administrative team makes us stronger, and our region will benefit greatly from the passion she brings to this position," CVES Assistant Superintendent of Educational Services Amy Campbell said. "We look forward to her leadership and believe she is the perfect fit for CVES."
Lawrence began her educational career in 2007 as a science teacher in the Willsboro Central School District. She then moved to Northeastern Clinton for one year to teach various science classes again.
With her family growing and needing to relocate, Lawrence shifted away from teaching and worked for U.S. Customs and Border Protection for five years.
But Lawrence could not be kept away from her true passion for being an educator any longer. So, in 2015, she taught science and was an Instructional Support Specialist in the Salmon River School District before moving to Franklin Academy two years later to teach Living Environment.
A job a bit closer to home called in 2019, and Lawrence moved to Chazy to continue teaching science and was also named the Dean of Students.
"Mrs. Lawrence has spent many years in education, and she has a true passion for students, professional development, and using data to improve instructional programs," CVES District Superintendent Dr. Mark Davey said. "As she moves forward in her new role, she will have the opportunity to help not only one school district but all 16 of our component districts. Her educational expertise is a definite asset to CVES, and we welcome her with open arms."
Now at CVES, Lawrence hopes to stay for a long time.
"I am so excited that I am here. I did not think I would get here so soon, but I worked so hard for this," Lawrence said. "I have hit the ground running and am trying to learn as much as possible. I cherish all the memories I have gained as a teacher, and I look forward to continuing to promote positive educational cultures for our students and staff."