Food for Thought: Cafeteria Management Co-Ser Saving Money While Increasing Nutritional Value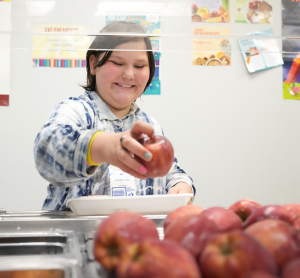 PLATTSBURGH — Prioritizing nutrition and nourishment while saving money sounds like a pretty tasty concept, right?
Well, that's exactly what the Cafeteria Management Co-Ser (642) provides at CVES.
Led by the Management Services Division, the Co-Ser brings high-quality, nutritional meals made from scratch to students daily and consistently meets the nutritional needs of students in the hopes of maximizing potential for children's health, wellness and learning.
"The skills and talents in these kitchens are very impressive and something I am very proud of," Assistant Superintendent of Management Services Eric Bell said. "At the end of the day, it's a program that every school district should have to meet the nutritional needs of our students."
SPREADING THE NEWS
The Cafeteria Management team of Julie Holbrook, Jocelyn Lopez, Sadie Kaltenbach and K'Cee Leavine, along with Bell, recently presented about the program at the 2022 Rural Schools Association Conference, and there was plenty to showcase.
Component districts currently enrolled in the Co-Ser include Boquet Valley, Keene, Moriah, Plattsburgh, Schroon Lake and Willsboro. In addition, both the CVES Plattsburgh and Mineville campuses are offering the services.
In all, there are currently 13 campuses with over 3,700 students reaping the benefits of these healthy foods.
"With this system, we are not serving processed food or warming food up," Bell said. "We are actually cooking in the kitchens, and we are making incredible strides to enhance our services every day."
SAVING MONEY
There's a common misconception that meals made from scratch are pricy, but that narrative has worn out its welcome.
"I have to say one of the favorites of our students is the pizza," said Angela Provost, CVES Cook Manager at the Plattsburgh Special Education Campus.
With it being a favorite, some might wonder what the costs of the pizza may be.
The numbers are eye-opening when you compare homemade pizza versus frozen pizza for 2,000 students given out 40 times a year.
Frozen premade pepperoni pizzas for that number of students would cost $99,200 according to CVES data, while homemade pepperoni pizzas at the same number cost $17,856, which means cost savings for homemade pizzas are $81,344 per year.
And while that's just an example of a cost-saving measure for a meal, here's some recorded numbers CVES holds for how a local district with 1,800 students was impacted.
This school district transitioned meal programs in July 2021. During the first year, there were 111,575 breakfasts and 164,997 lunches served, which was a combined 118,565 more than the year prior.
The overall federal and state reimbursement grew by $518,995, and the net income financial growth in one year of over $300,000.
"The transition to the program is hard work and very challenging because it's hard to break the mindset of, 'Well this is the way we have always done it,'" Bell said. "Once you get past that, however, there's unlimited possibility, which is one of the biggest incentives of them all."
FOOD CONNECTION
Beyond the dollars and cents, one key component to the program centers on creating an environmentally friendly cafeteria that welcomes all students.
"I really enjoy being in the kitchen and making sure these kids are receiving nutritional meals," Provost said. "I used to work in a classroom, so to be able to have the connection with the students this way now is something I value."
Provost said she enjoys the nutritional value of the program, as it strives to provide all the nutrients students need to be sound in body, mind and emotions in two meals.
As the Cafeteria Management initiative continues to grow and evolve, the foundation and principles of how it operates remains constant.
"Participation goes through the roof because the food smells good and tastes good," Bell said.
"The talent we have in our kitchens may be one of our most untold successes in our organization. It's time everyone knows about what's happening in these kitchens and the leadership CVES provides."
For more information about our Central School Food Management: Co-Ser 642, please contact Julie Holbrook at holbrook_julie@cves.org.