Public Forum: Regional Rural Issues Forum (RSA)
November 6, 2019 @ 6:00 pm

-

10:00 pm

EST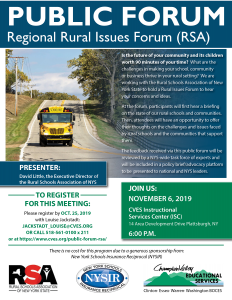 Presenter: David Little, the Executive Director of the Rural Schools Association of NYS
Location: CVES Instructional Services Center, 14 Area Development Drive, Plattsburgh NY 12901
Date: 6:00PM on November 6, 2019
Is the future of your community and its children worth 90 minutes of your time? What are the challenges in making your school, community or business thrive in your rural setting? We are working with the Rural Schools Association of New York State to hold a Rural Issues Forum to hear your concerns and ideas.
At the forum, participants will first hear a briefing on the state of our rural schools and communities. Then, attendees will have an opportunity to offer their thoughts on the challenges and issues faced by rural schools and the communities that support them.
The feedback received via this public forum will be reviewed by a NYS-wide task force of experts and will be included in a policy brief/advocacy platform to be presented to national and NYS leaders.
There is no cost for this program due to a generous sponsorship from:
New York Schools Insurance Reciprocal (NYSIR)
Please Register by November 1, 2019 through the form below or contact our organizer:
Contact:

Louise Jackstadt

(518) 561-0100 x211