Driving the Future of CDL
Driving the Future of CDL
Businesses donate retired trucks with plenty of life left CV-TEC Division 
---
BY MEGAN MANSON
CVES Publications Specialist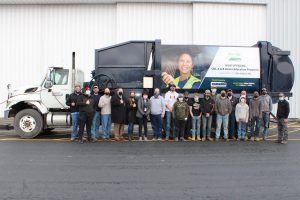 For decades, CV-TEC has been the leading provider of exemplary CDL Tractor Trailing Driver Education in the North Country. In February of 2020, in partnership with Casella, CV-TEC began to explore the opportunities to expand training to include CDL Class B education to meet the increasing demands of our North Country businesses and to address the nationwide shortage of drivers.
In addition to curriculum and staffing challenges, one of the major challenges faced to  expand into the CDL-B training opportunities was acquiring the appropriate equipment to deliver the required curriculum and training. Bill Meyers, Market Area Manager of  Casella, and then Principal of the CV-TEC Satellite Campus, Jim McCartney, constructed an agreement to acquire two retired Casella garbage trucks from the business for use in the new CDL-B training curriculum.
Both trucks, which are now considered retired, are excellent fits for CV-TEC's residential line of work due to meeting all the qualifications for CDL-B licensure.
"Their usage from a day-to-day to five-day-a-week vehicle have since passed," Meyers said. "One is still very much ready to go and very drivable to be used for training purposes, and the other one is a little bit past its prime but still has a wonderful life left to it from an educational standpoint."
In addition to assisting CV-TEC expand the CDL training offerings, Casella also benefited from having a new location to train drivers in the North Country instead of having to send employees hundreds of miles away, oftentimes out of state to Rutland, Vermont.
"We really see it from a bunch of different levels, not just a strict Plattsburgh location," Meyers said. "The thought behind it was being able to provide a chance for local students to have an opportunity to get a CDLB license and certainly being able to positively impact Casella and the North Country as a whole."
The second truck provided was donated to the Heavy Equipment/Diesel Mechanics programs to serve as training equipment for students to learn how to maintain and repair similar vehicles and to educate prospective mechanics for job opportunities that are also as in high demand.
At the same time CV-TEC and Casella were collaborating on the development of the new CDL-B training program, new state regulations changed for the operation of cement trucks. Upstone Materials found it economically beneficial to replace its entire fleet with new trucks that met the state's new compliance standards than to modify its existing cement trucks.
However, this development did not mean the now defunct vehicles couldn't still be used for training CDL-B drivers.
"Upstone came to us saying, 'We have to offload some of our cement trucks that are no longer in compliance – is that something that your program will benefit from?', which of course it will," Michele Friedman, Director of CV-TEC said.
A year and a half later, both businesses arrived at CV-TEC with their donations of two straight trucks each to be incorporated into the CDL Course and Heavy Equipment/Deisel Mechanics Program.
"We are all so connected between all of the different sectors whether it is the business sector or the education sector," Friedman said. "Whenever someone articulates a need, there is always someone who says, 'Hey, why don't you give CV-TEC a call?'"
CV-TEC now offers a 30-hour CDL-B training course in the Fall 2021 and Spring 2022 Adult & Continuing Education Course Catalog.