CVES Grants Team Provides Support to Schools
---
CVES Grants Team Provides Support to Schools
---
PLATTSBURGH — The Grants Management Services Co-Ser has seen incredible growth over the past few years, and with the addition of Amanda Buskey and Brianna Burnham this year, the sky is the limit.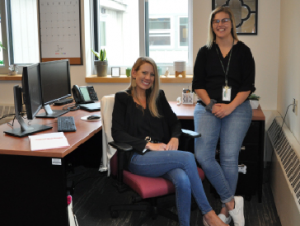 Burnham said the two refer to themselves as the "Grants Girls" or "Emotional Support Coworkers".
"It's nice knowing that you have somebody you're able to lean on while navigating a new position, because this role is new to both of us," Burnham said.
"I think we both felt that it was just kind of like a natural, easy connection working together because we're very similar," Buskey said. "You don't find that kind of easy compatibility in the workplace that often. We are fortunate to have a really strong and supportive working relationship from the very beginning."
Their robust partnership stems from a shared interest and experience in the social-emotional-mental health needs of students. Buskey has a background in writing for the medical field and Burnham's Master's degree program in Social Work focused on grant writing and program development/evaluation.
Currently, the Grants Management Services team works with six participating school districts, sharing the workload though each one serves as the main point of contact for three districts. They offer several levels of shared services, and a district can participate at the level that they feel best fits their district's needs. The office provides technical assistance and regulatory guidance, consortium inclusion for smaller districts that may need to team up to apply for funding.
Currently, there is funding available to alleviate gaps in educational achievement due to the COVID-related school closures and the move to remote learning mode. The schools did an amazing job in crafting programs and services to cope with the unexpected disruption to the usual methods of instruction.
Three specific grants that they procured during their first year at CVES for their participating districts are: Individual with Disabilities Act – American Rescue Plan (IDEA-ARP), American Rescue Plan – Homeless Children and Youth (ARP-HCY) and American Rescue Plan: Elementary and Secondary School Emergency Relief – State Reserves (ARP ESSER: State Reserves).
"There have been many grant opportunities specifically geared to support social emotional, mental health, and learning gaps due to lost instructional time in the classroom," Buskey said. "The ARP ESSER State Reserves is providing some of our component districts additional funding for after-school enrichment and addressing learning loss."
The "Grants Girls" are working on a newly released grant through the Purchase American Rescue Plan that is solely based on homeless children and youth, a situation that has been amplified due to COVID. Other specific funding opportunities that they have identified in the realm of social work: mental health grant, after-school and summer enrichment, learning loss, and college readiness.
This Dynamic Duo had the benefit of a three-month overlap with the outgoing grant writer Shelley Manchester.
"The ball is in our court," Burnham said. "Our shared motivation is knowing the difference we're making in the lives of students. Even though we're not in schools or working directly with students, we are still making a huge impact behind the scenes."
There are only two other BOCES in New York State that offer a grant procurement Co-Ser, so the component districts of CVES are indeed fortunate to have the Grants Management Services team available to provide their expertise and dedication to developing funding streams to enhance the educational experiences of students.
---
Read the full "Annual Report" here.