Body of Work: Tedford honored before retirement
---
Body of Work: Tedford honored before retirement
---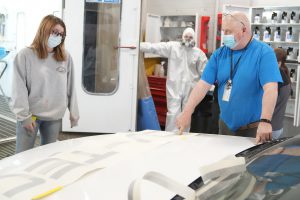 PLATTSBURGH
— CV-TEC Automotive Collison Repair Teacher, Mr. Thomas Tedford has been selected as the 2022 CTE Teacher Recipient of the Special Recognition Award from the New York State Association of Career & Technical Education Administrators (ACTEA).
The award is designed to recognize special contributions to Career & Technical Education by its members and professionals who have furthered the aims and objectives for youth and adults in New York State.
In nominating Tedford, Adam Facteau, CV-TEC Main Campus Principal had plenty to say about the longtime CV-TEC teacher, noting how he is a well-organized and
self-motivated teacher who grasps every opportunity to learn and widen his scope of CTE knowledge.
"In addition to going above and beyond in his duties as a teacher, Mr. Tedford is a regional faculty leader providing valuable insight and trainings at the
Statewide-BOCES-Assessment for Auto Collison Repair and as a SkillsUSA advisor, judge, and proud teacher of many regional award winners," Facteau said.
TIME TO REFLECT
When asked if this well-deserved award represented a "Lifetime Achievement Award" in honor of his 30-plus years as a teacher, the soon-to-be-retired Tedford said it encompasses all his time at CV-TEC.
"I would say that it would be mainly for my whole 30 years here by far," Tedford said. "Kind of like the culmination of all of that body of work. There are many other deserving teachers within this organization, within the state that do some amazing work with kids."
Tedford's time at CV-TEC created plenty of memories for himself as well as all the students he impacted along the way.
"The past 30 years have been incredibly good to me here — no doubt about it," Tedford said. "I would never change a thing, but it's time to move on."
FUTURE PLANS
Tedford may be retiring from his busy job, but he certainly already has plans for his upcoming free time.
"I'd like to do some travelling," Tedford said. "I've just purchased a sawmill, and I'll cut some of my own lumber. I have had a small business on the side doing construction work, and I'll get back into that. I'm pretty active and I like to stay busy, and I have many other talents than just in the automotive field."
There have been just two Auto Collision teachers since the program began. The first was Carl Schweigert, who retired in 1992. The second is Tedford, and a search is on for his replacement.
A LEGACY TO REMEMBER
Michele Friedman, CVES Director of Career and Technical Education said Tedford has left quite a legacy with CV-TEC and big shoes to fill.
"Mr. Tedford has been a pillar of the CV-TEC Division for 30 years," Friedman said. "His expertise in the field and as an educator has had an extraordinary impact on his students, his colleagues, and his industry affiliates. We are so proud to have the opportunity to celebrate Mr. Tedford's commitment and dedication to CTE Education  with such a prestigious award."
Reflecting on his CV-TEC experiences, Tedford said spending time with student organizations like SkillsUSA and the National Technical Honor Society stick out.
"I was fortunate over the years to have students place or win at the state level, competing against 45 other students," Tedford said. "Four or five years ago, one of  my students won the NYS skills competition, and Mr. Mark Brown and I went with him to Louisville, Kentucky, where he competed in the Nationals. That was an enormously proud moment."
THERE FOR ALL STUDENTS
Students have come to Tedford's Automotive Collison Repair program with widely varying levels of technical skills, and his top goal has always been to bring all his students to the level where they can move on to employment or further specialized  training.
"Mr. Tedford and I have known each other for a long time," CVES District Superintendent Dr. Mark Davey said. "On a personal note, I want to share with you that Mr. Tedford and I went to high school together. Now to tell you how old we are, I believe it was about 45 years ago.
"His commitment to his students and genuine passion for the educational process is one that is admirable and inspiring for us all at CVES."
Always one to change it up and keep his students working with the latest equipment and techniques, Tedford has seen an incredible amount of change over his 30 years at CV-TEC. When he began, students were expected to become a jack-of-all-trades, learning every aspect of auto body repair.
Today, both the students and potential employers are looking for specialization.
"Employers are coming in here offering over $20 an hour to start," Tedford said. "I mean, I worked 25 years before I made $20 an hour. Everything that they learn here goes along with the manufacturing jobs that we have in the area with Bombardier, Nova Bus, and others. These skills are transferable. I usually tell these kids that you don't have to go work in a dealership or a body shop, you have skills that you will be able to take to many different places."
---
Read the full "Annual Report" here.