(App)lications for the Future

Instructional Services Division, from CVES SUCCESS Stories: Issue XI 2019-2020 (pdf)
As more BOCES explore adding applications for mobile devices as helpful communication tools for parents and students, an opportunity arose through Upward Bound to place an intern with Communications Department at ISC to develop an in-house CVES App for mobile devices.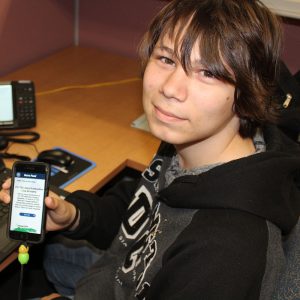 Seth Albertus, Northeastern Clinton CSD senior (then junior), spent the month of July learning how to independently develop a functional android-based application for a mobile phone under the supervision of Megan Manson at ISC. Working for a total of 35 Hours spread out over the month, Seth coded an application that pulls content from the CVES website into a tool for parents and students to receive important alerts, current events, the latest news, and find contact information for CVES personnel.
"The internship at CVES BOCES was my first time ever using my programming skills to achieve something both helpful, and as part of a team. In the past I'd only ever developed things I'd use for competitions such as programming for a robot or working on an app," Seth explained.
The project was generally a success and gave the school public relation team and CVES administrators something to consider for the future. In the fall of 2019, Seth inquired about submitting the app to the United States Congressional App Challenge, which he had already won the previous year. With some guidance on his presentation from CVES, Seth submitted a 10-minute video demonstrating the CVES app to the challenge website.
In early December 2019, Congresswomen Elise Stefanik notified Seth that she had selected his CVES App as her choice for the US-21 District.
"When it comes to winning the Congressional App Challenge, it's not often programming gets looked at in general, or awarded at the very least, " Seth continued. "Because app design alone is such a competitive field, being awarded as a youth helps compel me to continue working on this as a career. The addition of using this as a way to help my community makes it that much more important to me."
The ISC Communications team and Upward Bound were ecstatic for Seth's success.
Seth hasn't yet decided which college he plans to attend after graduating from Northeastern Clinton, but he is interested in pursuing a degree in Software Engineering or Computer Science.
"I'm not quite sure what I want to do in the future, but I know I want it to involve programming. I also feel as if helping people would be important as well."
As for the CVES App, further development of the communication tool is currently under investigation by administrators and the Communications team.