A CHERISHED SHIRT
A CHERISHED SHIRT
Special Education Division
---
BY EDDIE VEGA
CVES Publications Specialist
A young 10-year-old artist was thrown into the spotlight when his artwork was chosen to appear on T-Shirts.
MEET THE ARTIST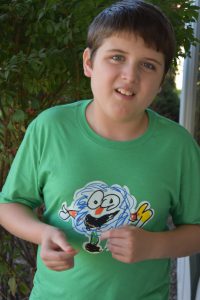 His name is Ethan.
According to his art teacher, Roxana Palmer, he is an inspiration. "Ethan is a sweet, energetic and a curious student," Palmer said. "I have really enjoyed seeing him take an interest in art. He has been making great progress. He loves choosing his art supplies and picking his favorite colors to work with."
Ethan has been diagnosed with Autism and Apraxia and communicates via an iPad since he has non-verbal smiles when he sees his artwork.
THE ORIGIN OF THE "FLUFFY MAN"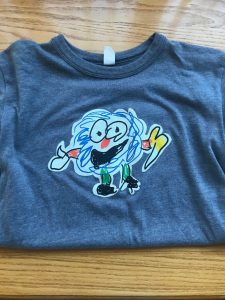 When the Paper Clouds Apparel company needed shirts as soon as possible, Ethan's picture was chosen, according to Ethan's Mom, Sarah.
"I would draw an eye then he would draw an eye. And then for the rest of it, I did a hand-over-hand with him," Mom recalls.
Many of employees hired by Paper Clouds Apparel have special needs. The company showcases the talented and creative skills of individuals with special needs to raising funds that offer support to other organizations and schools. Proceeds from the sale of the "Fluffy Man" T-shirts went to "Special Wants Inc" — an organization that provides sensory items, gifts and a community to families who care for loved ones with special needs.
ENJOYING THE SPOTLIGHT
One can only wonder how Ethan feels about all this attention.
"He is completely nonverbal, so it's hard to grasp what exactly he gets, but he gets a big smile on his face when we show him," Sara said. "Like you know, you made this and we show him the shirt and he gets happy about that."
The pride is felt by all connected to Ethan.
"Everyone is very happy for Ethan," Palmer said. "The staff proudly wear their Ethan designs!"
To learn more about the Paper Clouds Apparel company or Special Wants Inc, please visit their websites.
Paper Clouds Apparel –
https://papercloudsapparel.com/
Special Wants Inc –
https://specialwants.org/